250 métres of privet riverside on a ground furthermore of 1,5ha.
1500meters far to Chaumussay, By following the picturesque road which goes along Claise, In the direction of Preuilly, We see raising itself a building of unusual height which was built to serve as hairdryer with wool.BelowThe old manor house of the Forge quite by the river.
We penetrate there to the North by a hall in full round arch, surmounted by a square tower which served as dovecote.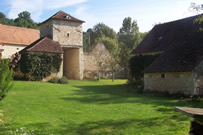 In the Est inn part , a detail in the low ceiling resting on a chief beam, Is warmed by a fireplace the rectangular posts of which support consoles.
The coat is decorated, in its central part, with the blazon of Menou which was: "De gueules à une bande d'or".
The opposite part kept two less impressive fireplaces, which could date XVII ème siécle.